"My world, my world... How can such a good little girl like you destroy all of my beautiful wickedness.
- Wicked Witch of the North"
As many of you know,
Altered Pages
is participating in the Smeared & Smudged 5th Annual 31 Days of Halloween Challenge! The goal is to post a
Halloween
or
Day of the Dead
project
EVERY DAY
with some sort of stamping on it!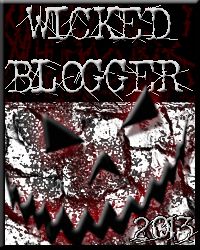 31 Days of Halloween 2013 Wicked Blog Roll
Terra
|
Black Dragon
|
Kapree
|
Shell
|
Kristy
|
Susan
|
Helen
|
Loren
|
Alison
|
Kelli
|
De Stempelwinkel
|
Monique
|
Karen
|
Airless Chambers
|
Jane
|
Jennifer
|
Emily
|
Lisa
|
Lyneen
|
Wendy
|
Altered Pages Art
Sociates
|
leslierahye
|
Delicious Doodles
|
Roni
|
Shoni | Jenn | DominoART | Jessica | Sandy | Carolyn | Carla | Julia | Steph | Trisha | Brigitte | Lisa | Anna
So, as promised from the AP Blog, here are some close-ups & instructions to make your own banner panel! (PS - These panels are so affordable! $3.25 for 3 & there are 2 different shapes if you want to make a large banner & mix them up!)
Enlarge images as desired & print (the raven & the girl were enlarged to 5x7 & my printer was acting up, so I had to color in her hat with a black marker & then I embossed it here & there.)

Type or stamp "Wicked Spirits" on white card stock for bottle.

Type or stamp "Are You a good Witch or Bad Witch?" onto metallic paper - ink will be wet enough to emboss if desired. Cut out with a label die or by hand. Stamp & emboss with Grunge stamp (Tim Holtz).

Paint banner panel with red paint; let dry

Stamp & emboss with Grunge stamp in black (Tim Holtz) & Chicken Wire stamp in yellow (Christy Tomlinson)

Loosely cut raven from collage sheet & glue onto chipboard; when glue is dry, fussy-cut raven out

Cut girl & skull from collage sheets. (She's holding a cat, so cut the cat away & snip thru her fingers a little to slip the skull through.)

Stamp & emboss with black onto metallic papers the bottles from Red Lead; cut out. Cut lid from larger bottle.

Arrange images & bottles onto the panel & adhere.

Attach lace seam binding to holes for hanging.
That's it! Now you have a fun little wall hanging for Halloween!
Thanks for stopping by & be sure to finish the Smeared & Smudged Hop for the day to qualify for the big prize at the end of the month!
I'll be back on the 21st with another project (if not before!), so I hope to see you then!
Other:
Metallic papers in gold, silver & bronze
Grunge stamps from Tim Holtz
Chicken wire stamp from Christy Tomlinson
Halloween stamps from Red Lead
Framelits Apothecary labels
from Stampin' Up